Cast
Emily Benjamin
Princess Pearl
Hailing from The Rhondda Valleys in South Wales, Emily trained at Performance Preparation Academy in Guildford.
Roles while training include: Dinah in Starlight Express; Arlene in Baby (Bellerby Studio Theatre); and Nickie in Sweet Charity (Yvonne Arnaud).
Workshops include: Steph/Marlene in Summer Street (Regents Studio); Theresa in Can't Stop It (Dominion Studio); and Luca in Tracks (Bellerby Studio).
Theatre credits include: Mordema/Cover Zahara in Bat Out Of Hell the Musical (Manchester Opera House, London Colliseum, Ed Mirvish Theatre Toronto and The Dominion Theatre London)
Emily is so excited to be a strong-minded little princess and thanks her family for their belief that, like Pearl, she can do anything she sets her mind to.
Robert Ginty
Sir Gadabout
Robert Ginty trained at the Royal Conservatoire of Scotland. Credits include: County Paris in Romeo & Juliet for the Petersfield Shakespeare Festival, Lorenzo in Merchant of Venice for Bard in the Botanics, Andrei in Three Sisters at the Royal Conservatoire of Scotland. Robert recently finished performing in Salome and Coriolanus as part of the RSC Rome Season 2017.
Elliot MacKenzie
Zog
Elliot Mackenzie began his training at the BRIT School of Performing Arts and Technology and is a recent Actor-Musician graduate of Rose Bruford College. He is making his professional debut in Zog.
His credits while training include: Giuseppe Zangara in Assassins, Rakitin in Three Days in the Country and Jack/Pat/MD in Wondertown - a co-production between Rose Bruford and The Bohemians Theatre Company, for whom he is the Assistant Artistic Director.
Dixie McDevitt
Ensemble
Dixie Mc Devitt's first appeared as Luna in Cosmic Trigger (2017) at The Cockpit Theatre, London. Since then she's become a member of the National Youth Theatre and written two plays, The Snowflake System and The Whale Dance and the Queen of Ireland which was long-listed for the National Theatre's New Views Competition. Dixie will study at Trinity Hall, Cambridge from October this year.
Euan Wilson
Madam Dragon
Euan is delighted to be originating the role of Madam Dragon in Zog. His previous theatre work includes Stick Man (UK/Dubai Tour and London productions) and before that he worked on a new piece of gig theatre with company Action To The Word.

Whilst training at Rose Bruford, Euan's credits include: Grandfather Winforton in Webb in Constance and Sinestra; Timo/Musical Director in Island Song; Dorn in The Seagull; Lucius in Titus Andronicus.
Creatives
Mike Shepherd
Director
Mike Shepherd is the founder and current Artistic Director of Kneehigh
Mike is an actor, director and teacher who believes passionately in the conditions of creativity.
Recent work: Tin Drum - Director; Tristan and Yseult - Actor; Dead Dog in a Suitcase (and other love songs) - Director; The Very Old Man with Enormous Wings - Director; 946 The Amazing Story of Aldolphous Tips by Michael Morpurgo - Actor
Johnny Flynn
Music & Lyrics
Johnny Flynn is a musician and an actor. He has composed music for TV, Film and Theatre and as an actor he has appeared on stage and on screen.
With his band 'Johnny Flynn and the Sussex Wit' he has toured the world and released four studio albums and various Live records, EPs and sound tracks. He has three children with his wife Beatrice.
Katie Sykes
Production Designer
Recent productions include A Monster Calls (Old Vic), Peter Pan and Jane Eyre (National Theatre/Bristol Old Vic) , Hetty Feather (West End/UK Tour ), The Two Gentlemen of Verona (The Globe),The Wind in The Willows (Mercury Theatre ), UpDown Man (Tobacco Factory/Salisbury Playhouse/Myrtle Theatre) ,Cinderella A Fairytale ,101 Dalmatians (Travelling Light/Tobacco Factory) Stickman and Tiddler (Scamp/Freckle )Romeo and Juliet (Rose Theatre Kingston ) La Strada (Coventry Belgrade/UK Tour).
Lyndie Wright
Puppet Designer/Maker
Lyndie and her husband John Wright founded the Little Angel Theatre in London in 1961.
As well as making puppets for the Little Angel she has made them for many other theatres in this country and abroad including the National Theatre, the RSC, the Globe, the Young Vic, Kneehigh, Wise Children, Munich Puppet Players, Brandenberg Theatre and Opera North.
Ric Mountjoy
Lighting Designer
Ric designs lighting for Theatre and Opera, and his work has been seen all over the world: at the Singapore International Arts Festival; in Seattle, Dubai, Bahrain and Doha; Hong Kong, Seoul, Guangzhou and Beijing, and most significantly in London and New York City.
Recent lighting designs include The Play that Goes Wrong on Broadway (Lyceum Theatre), on a US National Tour (2018/2019), and in the West End (Duchess Theatre - Winner of the Olivier for Best New Comedy, 2015), also Australia & South Korea; Uncle Vanya (Theatr Clwyd & Sheffield Theatres); Darbar Festival (Akram Khan Company & Sadlers Wells Theatre); Emancipation of Expressionism (Boy Blue Entertainment, Barbican Theatre, & BBC TV); Little Mermaid (the egg at Theatre Royal Bath); Mr Popper's Penguins (Seattle, Minneapolis, New York City & West End); a site-specific The Great Gatsby (Guild of Misrule & Theatr Clwyd); Tabby McTat (National Tour, Freckle Productions), the World Premiere of Karagula by Philip Ridley (Site Specific, Soho Theatre); What the Ladybird Heard (West End & two International Tours) and Bunny by Jack Thorne (Edinburgh, London & New York – Winner of a Fringe First Award; nabokov). He frequently lights site specific theatre for the company Slung Low, including The White Whale – an outdoor adaptation of Moby Dick (Leeds); Pandemic(Singapore), Anthology (Liverpool Everyman) and Beyond the Frontline (The Lowry, Salford).
Re-lights and work as Associate LD include The Magic Flute (London Coliseum, ENO). Ric worked for many years at English National Opera, and before that for Birmingham Royal Ballet.
Julian Starr
Sound Designer
Sound Designer Julian Starr trained at the Australian National Institute of Dramatic Arts. His work has been seen throughout Australia, Europe and the U.K. Julian has been nominated by the Off West End Theatre Awards for Best Sound Design for Aisha.
Theatre credits include: Othello (Union Theatre); Cry Havoc (Park Theatre); Violet (UK Tour); Aisha (London Tour); The Orchestra (Omnibus Theatre); The Boy Under The Christmas Tree (Kings Head Theatre); Tiger Under My Skin (Bloomsbury Theatre); The Giant Killers (UK Tour); A Winning Hazard (Finborough Theatre); Eris (Bunker Theatre); Gulliver Returns (UK Tour); You Only Live Forever (UK Tour); Surf Séance (Sydney Arts Festival); The Comedy of Errors (UK/Czech Republic Tour); The Shifting Heart (Seymour Centre Sydney) Untold (Playhouse Theatre Sydney); Kapow (Kings Cross Sydney); Telescope (Old Fitz Sydney); Best Before (Sydney Fringe Festival); The Shadow Box (Old Fitz, Sydney); The Recruiting Officer Arts Exhibition (Hyde Park Barracks Sydney).
Design Assistant include: Mama Mia! the Musical (Capital Theatre Sydney); Disney's Aladdin The Musical (Queensland QPAC, Assistant Sound Designer to Australasia Sound Associate); Talk, Richard III (Sydney Opera House).
Sarah Wright
Puppet Director
Sarah Wright trained at the Little Angel Theatre and has worked extensively within physical and puppetry-based theatre ever since. She is Artistic Director of Curious School of Puppetry, Director of Silent Tide, Associate Artist of Kneehigh and of Little Angel Theatre.
Director:
Silent Tide: Silent Tide, The Adventures of Curious Ganz
Puppet Direction and Consultation:
Kneehigh: Dancing Frog, The Tin Drum, Dead Dog in a Suitcase (and other love songs), 946, Brief Encounter, Red Shoes, Hansel and Gretel, Wild Bride, FUP. Stage Entertainment, German: Amelie – the Musical. Shakespeare's Globe: The Little Match Girl, Macbeth (dir. Iqbal Khan). Little Angel: Angelo, Cupid and Psyche. Young Vic: Life of Galileo, A Season in the Congo. RSC: The Empress, Tempest. Anoushka Shankar: Svatantrya. Sonia Friedman Shows: Nice Fish. Matthew Bourne's New Adventures: Sleeping Beauty.
As a performing Puppeteer includes:
Kneehigh: The Tin Drum, Dead Dog in a Suitcase (and other love songs). Young Vic: Life of Galileo. Royal Shakespeare Company: Venus and Adonis. Little Angel: A Very Old Man with Enormous Wings, Jabberwocky, Little Mermaid. Faulty Optic/Invisible Thread: Fish Clay Perspex, Plucked, Les Hommes Vides. Improbable: Animo. Green Ginger/WNO: Queen of Spades (Pique Dame).
She also works as a puppeteer for film and television.
Tom Jackson Greaves
Movement Director
Tom was born in Cornwall, trained at London Contemporary Dance School and is a director/choreographer working worldwide. He is an associate artist of Kneehigh Theatre and The Watermill.
Tom started his career as a performer with Matthew Bourne's 'New Adventures' creating roles and performing in Cinderella, Nutcracker, Early Adventures and Sleeping Beauty. Other performance highlights include Kes at the Sheffield Crucible and Tristan and Yseult for Kneehigh.
In 2018 Tom will announce his new company The Joy Club - a home for his creations and collaborations. The debut show for the company is currently in development and is a vivid, modern reworking of Hans Christian Anderson's The Shadow.
His past credits as a director include: Run For Your Life (Kneehigh); Neptunalia (Cscape Dance Company); Seven Deadly Sins (UK Tour) and Vanity Fowl (Sadler's Wells).
Work as choreographer/movement director includes: Wise Children (WiseChildren); UBU Karaoke, The Dancing Frog (Kneehigh); Sweet Charity, The Borrowers (The Watermill); Son of Rambow (The Other Palace); A Midsummer Nights Dream, Twelfth Night, Romeo and Juliet (The Watermill Ensemble); Spring Awakening (Hope Mill Manchester); Paint Your Wagon, Fiddler On The Roof, Conquest Of The South Pole (Liverpool Everyman Rep Company); Teddy (Southwark Playhouse, UK tour & The Vaults); Boudica, The Two Gentlemen of Verona (Shakespeare's Globe); Frankenstein (Wiltons Music Hall & The Watermill); The Life (Southwark Playhouse); Peter and the Starcatcher (Northampton Royal & Derngate); The Ostrich Boys (Coventry Belgrade); Juicy and Delicious (Nuffield Theatre); So Here We Are (Manchester Royal Exchange); The Glass Menagerie (Headlong); When We Were Women (The Orange Tree); The Crocodile (Manchester International Festival); Cabaret (RWCMD); Beauty and the Beast, Defect (ArtsEd); Footloose (University of Chichester); Shadowthief (Barnsley Civic); Kerry Ellis at the Palladium (London Palladium); LIFT (Soho Theatre); Harvest Fire, The Seventh Muse (Youth Music Theatre UK) and music videos and live performances for C. Duncan, Boy George and Clare Maguire.
Looking towards 2019 Tom is also looking forward to working on Billionaire Boy (Nuffield Southampton & UK tour), Zog The Dragon (UK Tour), Macbeth (Watermill Ensemble) and Priscilla Queen of the Desert (UK Tour).
Tom has choreographed short works for events, training institutions and youth companies including: A Maltese 50th Birthday on Manoel Island (2018), West End Bares (2017), English National Ballet Youth Company (2017), CPA Studios (2016), The MTA (2015), ArtsEd (2014) and Dance Academy Russia (2014).
Tom was a winner of the New Adventures Choreographer Award 2012, a recipient of the Marion North Mentorship Award at the Bonnies in 2015 and received a. Broadway World Best Choreography Nomination for his work on Fiddler on the Roof at the Liverpool Everyman.
Brian Hargreaves
Musical Consultant
Freelance Musical Director, Composer, Musician and Multi-Instrumentalist. Brian has a wealth of experience with devised theatre with a holistic, hands on approach to his work. Projects include compositions for a 90 strong ensemble for - Bristol Old Vic 250th Anniversary celebrations; Julia Donaldson's two hit Edinburgh shows; and an original pop-score for Ad-infinitum's dystopian Chloe and The Colour Catcher. He has a long association with Freckle Productions having worked with them for the past decade both as a performer and Musical Director. In his spare time he is a rock star. He has performed at The Fuji Rock Festival in Japan and on The Tonight Show with David Letterman in New York City.
Theatre credits include:
Chloe and The Colour Catcher (Ad-Infinitum/Bristol Old Vic) d. Nir Paldi cast/creative
The Grufflao, The Witch and The Wardrobe (Julia Donaldson) d. Peta Maurice creative
Tabby McTat (Freckle) d. Alan Lane creative
Ugly Duckling (Tobacco Factory) d. Sally Cookson/Craig Edwards cast
Tiddler and Other Terrific Tales (Freckle) d. Sally Cookson/Georgia Green cast/creative
Table Of Delights (Damfino) d. Katie Carmichael cast/creative
Cinderella A Fairy Tale (Travelling Light/Tobacco Factory) d. Sally Cookson cast/creative
Fagin's Twist (Dance East/The Place) d. Tony Adigun creative
Sleeping Beauty (Bristol Old Vic) d. Sally Cookson cast
Gruffalos, Ladybirds and Other Beasts (Julia Donaldson) d. Peta Maurice cast/creative
Romeo and Juliet (Kingston Rose) d. Sally Cookson cast
Swallows and Amazons (Bristol Old Vic) d. Tom Morris/Pieter Lawman cast
World Cup 1966 (Bristol Old Vic) d. Tom Morris cast/creative
Stick Man (Freckle/Scamp) d. Sally Cookson cast/creative
Tina Koch
Movement & Circus Consultant
Tina is joint artistic director of award winning contemporary circus company Ockham's Razor. Originally trained at Hildesheim University, Circomedia (Centre for Contemporary Circus and Physical Theatre) and LISPA (London International School of Performing Arts) Tina works across circus, theatre and opera as a performer, director, consultant and movement director. Besides her work with Ockham's Razor Tina has worked with La Fura Dels Baus, Improbable, Amici Dance Theatre, Oily Cart, Levantes Dance Theatre, Theatre Rites, National Centre for Circus Arts, English National Opera, L.A. Opera and Metropolitan Opera New York.
Georgia Green
Assistant Director
Georgia Green is a director from London. Previous work for Freckle Productions includes Associate Director of Tiddler and Other Terrific Tales (UK Tour) and Stick Man (West End). She also runs her own company Box Room Theatre who were the winners of the Innovation Award 2017 and are currently artists-in-residence at Goldsmiths' University of London. She is Practitioner-in- Residence at Colfe's School, London.
Bianca Ward
Wardrobe Supervisor
Her most recent projects have been Designing Costumes for dance piece, The Nature of Why, a Co-production with the Paraorchestra and the Bristol Old Vic with music composed by Will Gregory of Goldfrapp, soon to be performing at The Southbank Centre in London. Also, working with Bristol Old vic and Old Vic (London), Bianca has recently worked as Costume Supervisor for A Monster Calls based on the book by Patrick Ness. Bianca works for the Natural Theatre Company as their in-house Costume supervisor and amongst other things has Designed and Supervised a Circus themed Panto, taking inspiration from Victorian up to 1930's influences, Jack and the Beanstalk for the Georgian Theatre Royal, Richmond. Other highlights include working as Costume Supervisor with Pimlico Opera at Belmarsh Prison. Bianca has enjoyed working as Costume Supervisor for Opera Project and the Tobacco Factory on Cinderella and 101 Dalmations and has worked as a costume lecturer at Bath Spa University.
Nick May
Production Manager
Nick trained trained as a dancer at Ballet Rambert, and danced all over the world, following which he worked for Pineapple and then a championship winning race team, returning to show business as a PA to Anthony Newley, then as a touring Company Stage Manager and finally a Production Manger. He works on shows such as Gruffalo, Tiger Who Came to Tea, Room On the Broom and We're Going on a Bear Hunt amongst many others.
Dawn Meadowcroft
Sound/Technical Stage Manager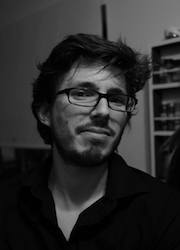 Cosmo Cooper
Company Manager