Cast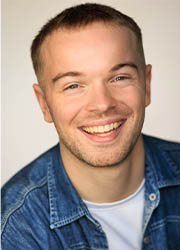 Ben Williamson-Jones
Actor-Musician, Stick Man (Swing)
Ben has just graduated from The Guildford School of Acting on the Actor Musician course. His credits whilst training include Matt in the musical Spend, Spend, Spend! and Grey in Richard III. Ben is delighted to be making his professional and West End debut with Freckle Productions in Stick Man.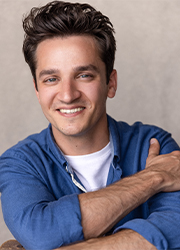 Jonathan Cobb
Stick Man (London)
Trained at Drama Studio London.
Theatre Credits Include: Bedknobs and Broomsticks (Disney), War Horse (The National Theatre), The Grinning Man (Trafalgar Studios – West End), Babe The Sheep-Pig (The Mercury Theatre Colchester), A Midsummer Night's Dream (Iris Theatre/Covent Garden), The School for Scandal/Love's Labour's Lost (Changeling Theatre), The Fox on The Fairway (Vienna's English Theatre), The Wind in The Willows (Boxtree Productions), Lovecraft/Bordermen (The King's Head Theatre), The Taming of The Shrew/The Two Gentlemen of Verona/Measure for Measure/King Lear (Quite Right Theatre), Paper Planes (The Old Red Lion Theatre), The Sentence Snatchers (Flat Pack Productions), Beauty and The Beast (LP Creatives/Leatherhead Theatre), Half (The Southwark Playhouse), Twelfth Night (The Globe Players/C Theatre), The Bull Ring (The Lost Theatre), A Death at Price Waterhouse (Sky and The Bird), A Matter of Life and Debt (Relish Theatre), Cybersoul (Cybersoul Productions), The Love Shack (HanDan Productions), One Night Stand/While You Were Sleeping/Bad Reception (West Avenue Theatre), Surprise (Playground Theatre), Romeo and Juliet (By Any Other Name Theatre) & Red Riding Hood/Jack and The Beanstalk (Rah Rah Theatre).
Film/TV Credits Include: The Shamrock Spitfire (Pixel Revolution), War Blade (Picture Perfect), Agents (Keiichi Matsuda Ltd), Waking The Beast (Amazon Prime), Hippopotamus (Amazon Prime), Nuts (ARK Pictures), Don't Cry for Bombardier (Common Sense Films), Misanthropos (Quintessence Studios), Evening Blues (Sequitur Pictures), The Nail (Chrome Waves), The Homework's Revenge: Esther in Wonderland (Lucky Pineapple Films), Legacy (Nebula Visuals), Macbeth (Action To The Word), The Grinning Man (The Imaginarium), Police Interceptors (Channel 5), The Flytipper (Dogged Films), My Day (Trim Cut Productions), Tony Torezzi's Online Masterclass (The Showstoppers), Don John in Soliloquy (In Soliloquy) & Lines (The Shadow Committee).
Twitter: @JonCobbster
Instagram: jon_cobb_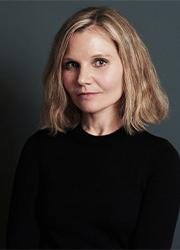 Charlotte Gascoyne
Stick Lady Love (London)
Television Work Includes: LAGGING (CBBC), Dir: Julian Kemp FAMALAM (BBC Comedy) Dir: Tom Marshall/ Akemnji Ndifornyen DOCTORS (BBC) Dir: Richard Signy HOLLYOAKS (Lime Pictures) Dir: Ade Bean STEFFI (Emerald Films) Dir: Richard Elson SCRUTINY (Pilot for Elson Films) Dir: Richard Elson LEE NELSON'S WELL GOOD SHOW (Avalon) Dir: Adam Wimpenny WITCH CRAZE (Blast Films) Dir: James Kent
Film Work Includes: I'M NOT IN LOVE (Not in Love Ltd.) Dir: Col Spector PICK UPS (Independent) Dir: Jamie Thraves HONEYMOONER Dir: Col Spector THE BOAT THAT ROCKED (Frigate Films) Dir: Richard Curtis
Previous Stage work includes: PEOPLE, PLACES AND THINGS (National Theatre / Wyndhams Theatre / St Annes Warehouse New York), Dir: Jeremy Herrin MOTH (Ransack Theatre) Dir: Piers Black-Hawkins THE POINT OF NO RETURN (Be Frank Theatre @ New Diorama) Dir: Tommy Lexen JULIUS CEASAR (Bussey Building) Dir: Samuel Wood SHERLOCK HOLMES AND THE SPECKLED BAND (Theatre Mill, York) Dir: Samuel Wood BOYS LIFE (Kings Head Theatre) Dir: Sebastian Blanc A ROYAL MESS (The Arts Theatre) Dir: Richard Elson OVER THE RAINBOW (National Tour, Theatre Productions) Dir: Stephen Leatherland THE BRIDES LAMENT (Envision Theatre, John Thaw Studio) Dir: Paolo Nikli BLOOD (The Synthesis Project) Dir: William Newell PHAEDRA (Envision Theatre) Dir: Susannah Tresilian
Radio Work : THE ESCAPED LYRIC (BBC Radio 4) Dir: Emma Jarvis THE DEBT BUSINESS (BBC Radio 4) Dir: Emma Jarvis TWO ROOMS (BBC Radio 4) Dir: Emma Jarvis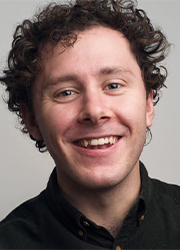 Patrick Orkney
Actor-Musician (London)
Patrick studied Actor Musicianship at Rose Bruford College and has performed in a variety of family shows, including The Scarecrows' Wedding at the Leicester Square Theatre, and Stick Man at Leeds Playhouse. Patrick is thrilled to be returning to Stick Man at Leicester Square!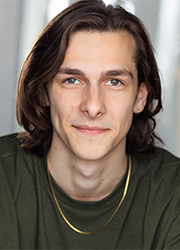 Killian Thomas Lefevre
Stick Man (London)
Originally from Paris, France, Killian trained in musical theatre at Performance Preparation Academy and in acting at The Actors Studio, Pinewood Studios.
Credits include: Young Man in The Real and Imagined Story of the Elephant Man (Nottingham Playhouse), Tink in Bat Out Of Hell (UK & International Tour), Toby in Thomas and the Magic Railway 20th Anniversary, Mike in Secret Cinema's STRANGER THINGS (London), Ensemble u/s Peter in Peter Pan (Harlequin Theatre).
Workshops Include: Ernst in THE STRANGE AFFAIR OF HERSCHEL GRYNSZPAN (The Other Palace) and Quasimodo in NOTRE DAME (PPA). He would like to thank his agent, family, friends & partner for their constant support.
Instagram/Twitter: @kigatho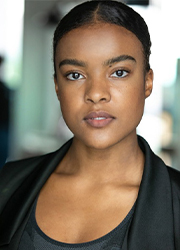 Maya Elliott
Stick Lady Love (London)
Training: ArtsEd, The BRIT School, National Youth Theatre.
Performance Credits include: Squirrelle in Elephant And Piggies- We Are In A Play at Perform In The Park Festival London, Jill in Jack and the Beanstalk at The Yvonne Arnaud Theatre, Chorus in Ainadamar, Scottish Opera, Ensemble/Cover Princess Julia in Taboo: The 20th Anniversary Concert at The London Palladium, Alice in Dick Whittington at The Yvonne Arnaud Theatre, The Color Purple Concert at Cadogan Hall.
Credits whilst training include: Jemima in Cats, Ensemble in Ragtime.
Maya also appeared on Ant and Dec's Saturday Night Takeaway, with Boy George as part of the Culture Club Choir and was a Trophy Presenter at The Olivier Awards Ceremony 2022.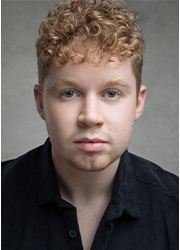 Niall Morris
Actor-Musician (London)
Niall trained at Bird College, and graduated with a first class BA(Hons) degree in Professional Dance & Musical Theatre.
His credits include; Stick Man (Leicester Square Theatre); Laurie in 'Little Women' (Bird College); Mr Twimble/ Ensemble in 'How to Succeed in Business Without Really Trying' (Bird College); & Jimmy in Thoroughly Modern Millie (Bird College).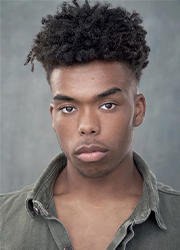 Aaron-Louis Cadogan
Stick Man (Tour)
After graduating from Drama Centre, London in 2020 Aaron-Louis Cadogan has appeared in theatre productions To Be Continued, Little Fish Theatre Company; Speak, Multistory Productions; By The Light of The Moon, Full House Theatre. Audio drama credits include Cry Havoc! Ask Questions Later and Of That Colossal Wreck, both for Rusty Quill. Around his acting career, Aaron can be found in his home studio, working on a plethora of exciting projects, ranging from writing music for shows, up-and-coming artists, personal projects and teaching music production.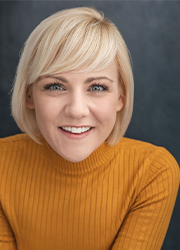 Rosie Pepper
Stick Lady Love (Swing)
Rosie trained at the Academy of Live and Recorded Arts (ALRA). Her theatre credits include 'Lily' in Snow Patrol at Harlow Playhouse, 'Race Car' in Monopoly Lifesized Selladoor Worldwide, 'Taylor' in the UK Tour of 'BIN IT' with Rapport Group and 'Fairy Godmother' in Cinderella at Barnsley Lamproom Theatre.
Commercial credits include Veygo Car Insurance and Reese's Peanut Buttercup.
Voiceover credit includes "'In the Book' – It's Me" Personalised Children's Book Commercials
Rosie is delighted to be joining the cast of Stick Man for this year's UK Tour as Swing, Stick Lady Love.
Rosie Malone
Stick Lady Love, Actor-Musician Swing (Tour)
Rosie is an Actor & Musician who trained at London College of Music and graduated in 2020.
Rosie's professional credits: Stick Lady and Actor Musician in Stick Man (Leeds and Singapore), Musical Director in A Soldier's Woman (The Cockpit, London) and Rosalind in As You Like It (The Royal Victoria Patriotic Building, London).
Roles whilst training: Musical Director in Lucky Stiff and Reed 2 (Band) in The Wild Party.
For more information about Rosie visit www.accessuk.agency
Creatives
Brian Hargreaves
Musical Director
Brian is a multi-instrumentalist Musical Director, composer and producer.
Brian plays Tenor Sax with The Heavy, performing on The Tonight Show with David Letterman and The Late Late Show with Craig Ferguson. He has toured the US, Japan, Europe, Singapore, Dubai and Hong Kong, and festivals including Edinburgh Fringe, Glastonbury, Ottawa Jazz and Fuji Rock.
Theatre credits: MD/Performer Cinderella A Fairytale (2016 Tobacco Factory/Travelling Light) Performer/Musician – Sleeping Beauty (2015, BOV) Actor/Musician Swallows and Amazons (2014, BOV); MD/Composer/Performer World Cup 1966 (2014, BOV); MD/Composer/Performer Little Table Of Delights (2014, Theatre Damfino); MD Pirate Gran (2014, Scamp); MD/Performer/Devisor Stickman (2008 – 2011, Scamp); Musician/Performer Cinderella (2012 Travelling Light/Tobacco Factory).
Recorded Credits: 'Halaska' – BBC/Holland America 2017; The Heavy - 'Great Vengeance & Furious Fire' 2007; 'The House That Dirt Built 2009; 'The Glorious Dead' 2011 (Counter Records/Ninja Tune)
Brian studied music at Northumbria University before moving to the South West.
Elanor Higgins
Lighting Designer
Sally Cookson
Original Direction